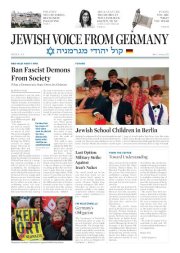 On the Jewish Voice From Germany Facebook Page wrote: "Thank you so much! Warm greetings from Berlin!"
I am utterly dismayed and surprised by my reaction to receiving an email that reads, "Warm greetings from Berlin." I never thought I'd be excited or thrilled to see or hear those words from anyone German. But I am thrilled and excited to pursue this German-Jewish connection to our film, my family, and my identity. Things certainly didn't start out this way.
When I first encountered the letters my father wrote in 1946 several years ago, I was still filled with all the anti- German sentiments that I had carried with me all my life. Instilled in me by my mother and the Russian Jewish cultural milieu I was raised in, I carried these anti- German feelings despite knowing intellectually that my attitude wasn't quite "right or just."
Quivering a bit when I heard German spoken, refusing to travel to Germany despite invitations from Jewish friends, and never having any real interest in my own German Jewish heritage I remained steadfastly anti-German. I would even say, you can't blame younger generations for the crimes and misdeeds committed by the older generations, but in my heart, my feelings and behavior didn't budge.
All this has changed as a result of working on our personal documentary, Letter From Cloudcroft. The journey I've been on, even before going to Germany, has made me examine my own beliefs and prejudices. It's made me look into my own family's dynamics to see where I turned against my paternal German Jewish heritage. Even though my family's immigration to the United States predated Hitler's regime, and were spared the atrocities of the Holocaust as best I know, it was the German part of the German Jewish I rejected.
But now I eagerly look forward to going to Germany, to the place I once vowed I'd never step foot in. I am excited to meet Germans from all ages and walks of life. Older Germans who might have participated in the Nazi regime, young Germans involved in reconciliation work, German Jews who returned to Germany after the war, Jews who have immigrated to Germany. I am ready to visit the sites where unimaginable horrors unfolded, to see with these American, Russian & German Jewish eyes what I have never wanted to witness. I am ready to be transformed, to integrate the parts of myself I have discarded, to be a witness to the old and new Germany and to the old and new German Jewish identity that is apparently blooming in my ancestral homeland.
I have no idea how this will affect me, whether I'll be more German Jewish when its over or not. The desire to examine all these aspects that are both inside me and reflected outside in the culture, history and politics of Germany is an adventure of a lifetime, a journey that will be captured in our film, and recorded forever in my heart.
Here's a translation in English about the Jewish Voice From Germany newspaper.
~